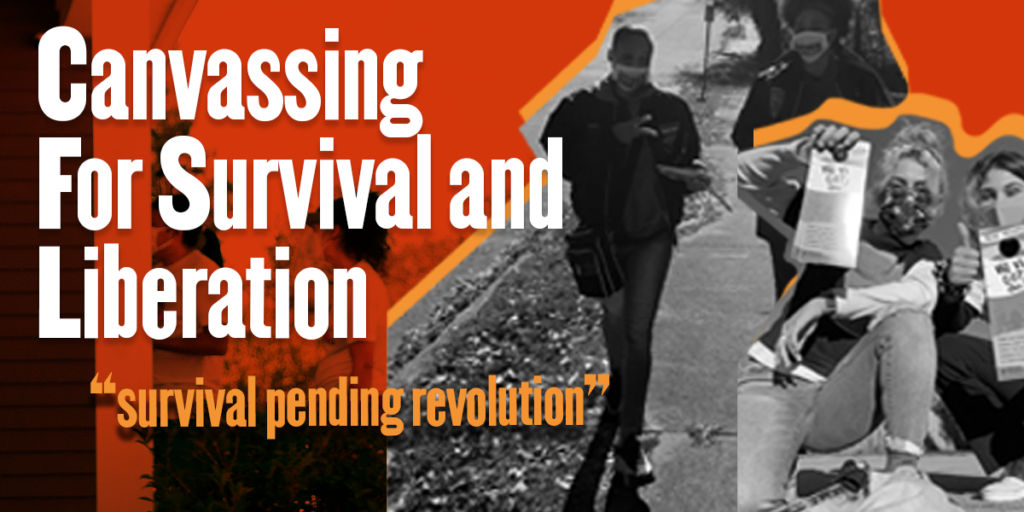 As the compounding crises of the COVID-19 pandemic, climate collapse, economic inequality, and increased attacks on our access to the ballot continue to ravage our communities – our people are fighting for survival.
We know that election season is all of the time, not just every four years when the president is at the top of the ticket.
We know that our communities are on the line and that our votes count even in the states and counties where we may feel isolated and dispersed, but we are many.
At SONG Power have a vision of transformative electoral organizing — that is not transactional and intermittent — but instead:
Leads to real material shifts in the Land, Body, Spirit, Work conditions for our constituency (the people who may not even know our name, but are affected by the issues we organize around)
Driven by the issues that are priorities to our communities, rather than by the fame or fortune of individuals
Incorporates mutual aid — gives back to the community.
Builds the power of the community to organize — new leaders and relationships.
Rooted in our values in how we treat each other and demonstrates the world we want to live in
Connected to year-round organizing, not just elections.
Reveals systemic oppressions of capitalism, racism, neoliberalism, imperialism and patriarchy that are embedded in the U.S. electoral process. Elections are a tactic and a means to an end, but are not inherently liberatory.
Canvassing For Survival + Liberation is transformative electoral organizing in action.
"We recognized that in order to bring the people to the level of consciousness where they would seize the time, it would be necessary to serve their interests in survival by developing programs which would help them to meet their daily needs…these programs satisfy the deep needs of the community but they are not solutions to our problem. That is why we call them survival programs, meaning survival pending revolution."

– Huey P. Newton, To Die for the People: The Writings of Huey P. Newton
But we don't just want to survive – we want to thrive.
We want liberation in our lifetime.
We believe that the answers we are looking for lie in our communities, with our people, and that behind each door knocked in our neighborhoods are the real political strategists, organizers, and changemakers.
We are canvassing for our collective dreams, our vision for the future and to find and connect with our beloved community all over the South.
We are not just putting feet on the ground but our ears to the street – searching for the stories of our people, listening for the rhythm, the words and the phrases that will shape our dreams.
What is Canvassing For Survival + Liberation
Canvassing For Survival and Liberation is a 6 week base building campaign focused on canvassing across the region through three selected sites.
We are inspired in this plan by Canvassing for Dreams, a SONG Member Initiated Project, produced by Gallery of the Streets as part of [b]REACH: Adventures in Heterotopia. Beginning in the fall of 2019 through the fall of 2020, Canvassing for Dreams performed theoretical and stylistic interventions in Black counterpublic spaces. The project aimed to queer traditional canvassing and engage communities in public discussions about justice and safety.
Sites will be chosen through an application process and run by a Local Power Team. Each team will be made up of 5-6 members and consist of the following role: a coordinator, a communications point and a canvass team. SONG Power will offer a paid stipend of $20/hr for up to 20hr/week to each team member.
Sites will begin the process with onboarding, training and a deep dive into analyzing the needs of their communities, power mapping + assessing the political climate in their area to create a plan tailored to their site.
Canvassing For Survival + Liberation Site Criteria
Align with SONG and SONG Power's vision, mission + working agreements (will link to this on SONG's website)
A crew of 5-6 folks who are ready to rock + roll and commit to the 6-week program
Come with a willingness to learn, struggle + grow
Timeline
October 4: Applications Open
October 15: Applications Close
October 15-20: Site Selection, Onboarding + Training
October 20 – December 1: 6 week campaign + canvass blitz
December 1 – December 5: Debrief + Assessment