Take Action Against Sen. Lindsey Graham
In South Carolina, like so many other states where the Rightwing has run unopposed for decades, we see the concentrated effects of white supremacy, poverty, misogyny, and homophobia every day.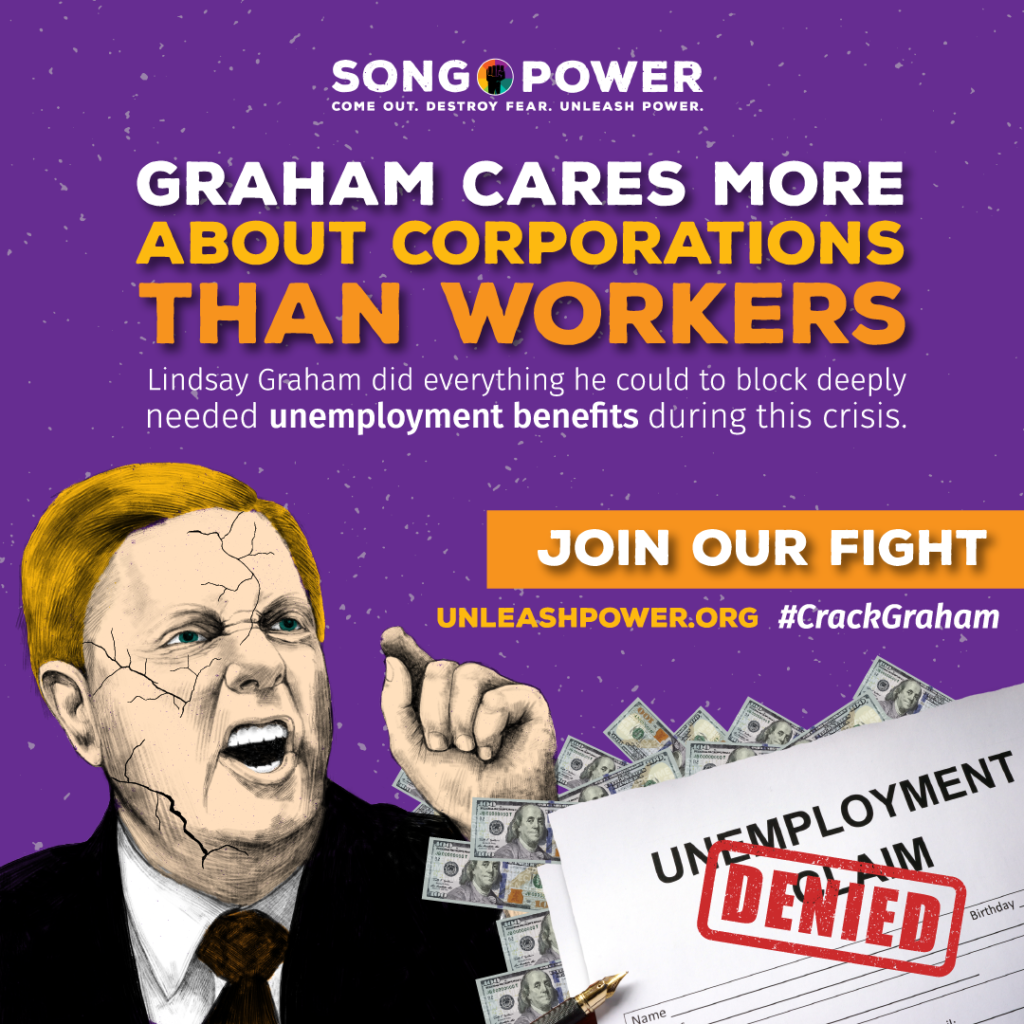 On Saturday, August 1, hundreds of thousands of South Carolinians lost their unemployment benefits. An estimated $120 million dollars will evaporate from the South Carolina economy each week. Since then, 53% of South Carolinians have been up for eviction from their homes with no aid during this global life threatening pandemic.
And yet, Senator Lindsey Graham said it would be "over his dead body" would Congress reauthorize help for millions of people across the country and home in South Carolina. Email Senator Graham and let him know that our communities, our health and our economy depends on this relief!
Join us is taking action against Lindsey Graham from now until November and pledge to vote against Lindsey Graham!
With all of the uncertainty and misinformation surrounding the 2020 election, it's important to start creating your plan to vote as early as possible.
Voting absentee or planning to go to your polling place? Have you recently moved? Do you have all of the necessary documents? Are you away at college? These are some of the questions that are important to answer to create your voting plan for Election Day on November 3rd, 2020!
At SONG Power, we believe that both the barriers to justice and the potential wins are greater in states in the Deep South like South Carolina.
That's why we're taking on Lindsey Graham, United States senator from South Carolina and poster boy of rightwing homophobes, union busters and rape apologists, who's nevertheless held his seat for 17 years and counting. Since Trump's election, Graham has doubled down on his ass-kissing and renewed his commitment to a regressive vision of South Carolina and the nation. The people of South Carolina know Graham is a grifter of the highest degree, a self-serving partisan whose commitment bends to meet his own career goals. He said it himself: in 2019 he told the New York Times his primary focus is "Relevance: If you don't want to get re-elected, you're in the wrong business."
SONG previously invested more heavily in South Carolina but has not significantly invested in the state since 2016. By focusing on holding Graham accountable, SONG Power will energize our communities in SC and lay groundwork for reinvigorated local organizing in SC beyond 2020. Even if we lose, an investment of this scale in South Carolina Movement infrastructure will make an impact — identifying new leaders, forging new relationships and connections, developing more strategic organizing skills, and showing the rest of the country what's possible with an investment here. We will run a statewide organizing strategy engaging a traditional field program, relational voting, narrative communications, culture work, and direct action to denounce and de-legitimate Lindsey Graham and all he stands for. Along with cracking Graham, we want to leave South Carolina much stronger for years to come — more grassroots leaders, fortified organizations, animated and engaged constituencies, and opportunities for broad-scale, transformative organizing.
This will not be an easy fight. The political pundits put the Graham seat as solidly safe Republican, mainly based on South Carolina's Republican lean. But, in a December 2019 poll, Graham was only leading Harrison by 2 points. To win, SC political strategists say: "Harrison will not only have to turn out voters but also over-perform with white working-class voters, as Stacey Abrams, Georgia's 2018 Democratic gubernatorial nominee, did."
Join us to organize towards a South Carolina based on the principles of Beloved Community and to fight for and win communities where Black people, immigrants, workers, LGBTQ people, and women can live Free From Fear!