Announcing SONG Power: the new power-building and advocacy arm of Southerners on New Ground.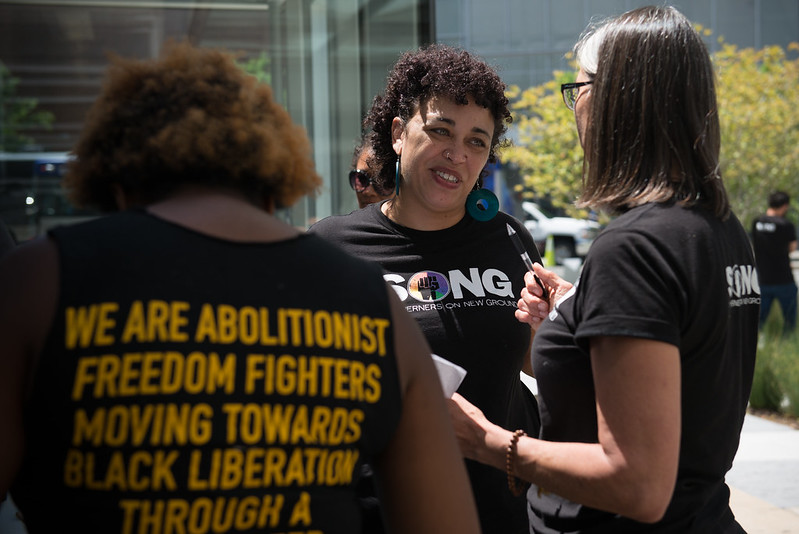 SONG Power equips justice-loving Southerners with another toolbox to bring about liberation in our lifetime. SONG Power will allow us to push SONG's policy demands further, drastically expand SONG's membership base, and contend directly for power across the South — by will be free to call out targets, and allies, by name. In 2020 we plan to escalate our fights to #EndMoneyBail and #MeltICE and organize to build political power in Georgia and South Carolina.
Our sister organization, Southerners on New Ground (SONG), is a multi-racial, regional anchor institution in the South that aims to build, sustain, and connect a base of LGBTQ people to fight for and win abolitionist policy and cultural change. For 28 years, SONG has been known, both regionally and nationally, for our intersectional training, capacity building, and organizing work. SONG is the largest grassroots multi-racial LGBTQ organization in the South, with over 11,000 members and 12 member-led #EndMoneyBail and #MeltICE direct action organizing campaigns developing across the region. All of SONG and SONG Power's work seeks to connect our people — Southern immigrants, survivors, women, trans and gender non-conforming people, Black people, poor and working class people, and those who live in the Gulf and on the shore line — to build lasting power, weaken the tentacles of the prison-industrial complex and the harmful practices of the State, and to transform this region we call home.
As we enter into the 2020 election season, we face a political climate where the Right has more consolidated power than we have seen in our lifetime. Our communities bear the brunt of the Right wing's policy experiments even as we organize on the front lines to defeat them. In this time of high stakes and broad political engagement, our communities seek a vehicle that will allow us to fight most effectively to change the conditions of our own lives and contend directly for political power in the South.
This is why in 2020 we are launching SONG Power. This 501(c)4 advocacy organization will build political power to support the work of our beloved sister organization. SONG Power will allow us to push our policy demands further; connect with and organize thousands more LGBTQ Southerners to support progressive policies and candidates, and build movement infrastructure in Southern states that have been neglected by national funders and policy shops. Building on SONG's 28 years as an organization from the South, accountable to the South, and staying in the South, we are ready to bring all we have to bear on this new work. SONG Power will provide the brawn and bite we need to fight for policies and elected officials worthy of this region's legacy of redemption, abolition, Black-led Freedom Dreams, and broad-scale community organizing.
In May 2020 we had a launch webinar on our Facebook featuring our partners Mijente & GLAHR! Check out the webinar here.